Writing a book is on many people's bucket list
Many of us have said that we want to write a book one day. 'One day' is a common expression we can all use as we move along our life path. 'One day' probably has a list of many things that we wanted to do. Our hopes, wishes and dreams get prioritised in accordance with what's going on for us at any given time and the journey to becoming an author may become a distant memory.
Writing a book means that you are creating a product for sale
But – for those of you who make space for writing your book, not only will you be learning how to write it in a way that makes it easy for your reader to enjoy, but you will also be learning a whole host of other skills that you didn't expect to have to learn when you wrote your very first word. Your author journey doesn't end when you sell your first book, it ends when you have learned all of the skills and taken all of the steps to get you to that first sale (and if you've worked hard, been consistent, persistent, determined and resilient), you'll make many more sales too.
Book Marketing
You do know that writing a book means that you are creating a product right? Unless you are writing it as a legacy gift for you to read in your old age and to give out to loved ones and those in your family who want to trace your ancestry? If you want to sell your book once it's done; if you are aiming to make money from it; give up work and write for a living; then you are going to have to wear the many hats that make up being a 'business owner'. When I first grasped the concept of a book that I'd written being a product, I really did want to put my pen away and never write again.
Why? Because it means even more work.
'All I want to do is write and self-publish my book' is what I said back then and it's what I hear other aspiring authors say too. But, if you want to sell any copies of your book, then there are some steps you need to take and some additional skills that you will learn on your author journey. Yes, it's a scary prospect if you've never learned how to market, who to market to, how to sell (and you are also going to have to learn to sell yourself and your book).
What skills do I have to learn to be able to sell my book?
Those skills include research in identifying your target market (aka who is going to be eager to buy and read your book?), finding out where to put your book so that your target market sees it, putting the right price on your book in order for it to sell well, creating a 'brand' for you and your book so that your audience can get to know, like, trust you and be the first in the queue to buy your books.
Author and book branding
We all buy from people so making sure that you are your own 'brand' and that you are easily identifiable as the author is key. Will you want a website to promote your books? How will you advertise yourself and your book, which social platforms will you choose? How can you build up a 'fan-base' to support you on your author journey? A one-page website showcasing your book will mean that you aren't at the mercy of social media channels that can pull the plug on any 'social' network you've spent hours building.  Having your own 'platform' from which to launch your book is critical as it means you have full control over what you showcase to your audience. We all know famous authors who seem to be everywhere don't we? They build their 'brand' and rather than having to sell to their target market, their target market seeks them out, joins their e-mail list and pre-orders their next book. Whilst that they do have a team and money behind them to do all of this for them, many of them started from the same point as you. Start your journey, take that first step and learn the skills of author and book branding.
Writing your first book
I hesitate to say this – once you've done your first book and can see it selling, you may even be tempted to write another! But……you might want to rest a while once your first book is done. Have no illusion that writing it in so many ways is the easy bit. The knack is to start the journey, write your book and learn the additional skills as you write. In some respects, having something other to think about whilst writing is a very good thing as it gets your nose away from the grindstone and gives your mind a rest – which will help your writing the next time you go back to it. I always say that writing a good book is like opening a bottle of expensive wine. It's not to be rushed, it needs to breathe, rest and mature before you or anyone else gets to savour it's richness and flavour.
Author mindset
Curiosity won't kill this cat is a mantra that I would like you to adopt when it comes to writing your first book. By that I mean ask plenty of questions, do your research, seek out experts in the field of publishing and learn all of the steps that it takes to go from first word to finished book on the bookshelf.
What makes a best-seller book?
Grab a copy of your favourite best-seller book. What does it contain between the front and back cover? There are things in it that you probably only glance at, eager to read you pay little or no attention to the 'technical aspects' of the book. Things like copyright, contents, chapter titles, dedications, page numbers, gaps between the paragraphs, illustrations, white space, font type etc. All you really want to do is read. You are not necessarily aware of the technical aspects of the book that make reading it ever so easy and ever so lovely. And yet, if the font was too small, the spacing between the lines too tight and little white space on each page, you'd notice and perhaps your keenness to continue reading, despite it being your favourite author or a book you've been eager to read, may wain a little.
The Author's Journey – a guide to writing and publishing your book – £15
David Hambling and I work together at The Book Writers' Resource Ltd and have learned a lot about how to support aspiring authors like you. David wears the publishing consultant hat and I wear the author hat and between us, we cover the wide range of tasks needed to become a self published author. We also share advice and guidance if an author approaches us wanting to try the traditional publishing route. We have written a book that contains everything that we know about writing and the steps to self-publishing. It takes you from first word to finished book on the book shelf, with guidance, tips, and advice on what to do and what no to do to get you and your book known and sold. The book will help you to avoid mistakes, pot-holes, and pit-falls and will help to avoid wasting time, effort, and money.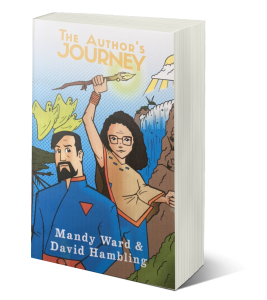 Book Creation Packages
Affordable options include a copy of the book – The Author's Journey for £15 or a book kick-starter for £75 in which you can ask as many questions as you need to help you start your author journey and with the added bonus of a pdf full of ideas to market your book whilst you write it. A Book Structure session for £175 will help you go from idea to an outline of your book structure from which you can organise your writing and gives you 2 hours book mentoring plus a follow-up report that captures everything covered in the book structure session. I've also recently started a writing group called 'Write Together' which meets regularly, writing together for just 1.5 hours a week and is free to join. The aim of the group is to write together, be accountable to someone other than ourselves and offer support, guidance, feedback and friendship.
'Write Together' and succeed together. It's that simple. Constructive feedback in a safe environment with other aspiring authors like you.  Helping each other on the Author Journey with support from me, David, and knowledge, hints and tips from other book creation experts.
No harsh critics, no crushing advice, no pressure.
If you'd like to join 'Write Together' – please e-mail me at Mandy@writemybook.co.uk
I also give out regular tips and advice on Linkedin – please follow and connect.
If you'd like to buy The Author's Journey book, take a book kick-starter or book structure session, get in touch, I'd love to help you get started on your author journey.